Customer Reviews
Write a Review
Ask a Question
06/19/2019
Jacob B.
SAINT AMANT,LAUS
02/11/2019
trudy w.
Ottawa, Canada
02/09/2019
Kindle C.
Ottawa, Canada
Wow!
These are beautiful! I cant believe how real these look especially for the price! Would definitely buy again! For this reason I gave them 5 stars.. HOWEVER... these are so hard to put on. The ball that serves as the back is super tiny and it took me a while to finally screw the earring on. With that, because they are screw on the earring doesn't tighten, leaving extra space between the back and earring. Many people told me my earring was about to fall off because it looks loose.
02/01/2019
Yana Y.
Ottawa, Canada
Incredibly sparkly and gorgeous set.
I have bought a few of the similar earrings. I have issues with regular studs as they hurt when I sleep. These earrings are beautiful and very bright. Finally I found some that come in a variety of sizes and once again, they are absolutely stunning. They are paired up which allows you to wear them as regular earrings without the worry of the back falling off and are excellent to wear side by side if you have more than one piercing. Seeing other products, these are of high quality.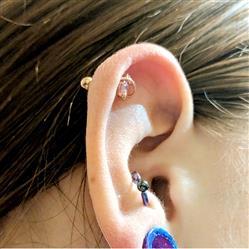 These are the standard sizes used for each piercing in body jewelry. Please note that we cannot guarantee that this is the size used for YOUR piercing. These are the standard gauges and lengths used by professional piercers. Everyone's body is different, and sometimes piercers will use different lengths and gauges depending on your body and the type of jewelry you want to wear.