Customer Reviews
Write a Review
Ask a Question
08/04/2021
Frederique G.

Canada
I recommend this product
Absolutely gorgeous
The jewel is great quality and resist well over time! I've had mine for a few months now and there's only a slight discoloration caused by the friction of my pants but nothing around the piercing itself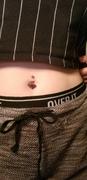 02/22/2021
Anonymous

Canada
I recommend this product
I like the dragon claw.
It was good. I will probably buy another one.
02/23/2021
Ouferbodyjewelry
Hello Louise Thanks for your feedback, we are glad to know you love it, and would like to invite you to join our Facebook Group "OUFER CLUB HOUSE", a 50% off code would be given for your next order. Thanks again and have a great day!
These are the standard sizes used for each piercing in body jewelry. Please note that we cannot guarantee that this is the size used for YOUR piercing. These are the standard gauges and lengths used by professional piercers. Everyone's body is different, and sometimes piercers will use different lengths and gauges depending on your body and the type of jewelry you want to wear.