Customer Reviews
Write a Review
Ask a Question
02/11/2019
Nichelle
Ottawa, Canada
Five Stars
Great earring, hard to get in, but cute once it is!
02/09/2019
FifthPlum
Ottawa, Canada
Love these!
The earrings are a bit loose on my cartilage and have a tendency to spin around, but they are still very cute and well worth the price! I can even wear them to bed comfortably. Usually my ears are extremely sensitive when it comes to certain earrings. I haven't had any negative reaction with these. I can finally wear earrings in my cartilage without a random infection! :)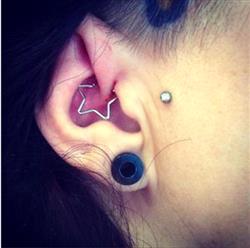 02/01/2019
Emily R.
Ottawa, Canada
worth the price
i had a little trouble unscrewing the back, other than that i love it.
01/19/2019
esperanza
Ottawa, Canada
Five Stars
So pretty... and good quality
These are the standard sizes used for each piercing in body jewelry. Please note that we cannot guarantee that this is the size used for YOUR piercing. These are the standard gauges and lengths used by professional piercers. Everyone's body is different, and sometimes piercers will use different lengths and gauges depending on your body and the type of jewelry you want to wear.