According to various sources Halloween is one of the most popular holidays second to Christmas. There are lots of ideas and views on what Halloween really portrays and what really is the story behind the holiday. Halloween has always entailed mystery, magic and superstition. The modern celebration of Halloween is a descendant of the ancient Celtic fire festival called "Samhain". It was believed that the ghosts of the dead returned to earth on that day.
By the 1920s and 1930s, Halloween had become a popular community-centered holiday with spectacular parades and town-wide parties. this was and still is, great entertainment for the local people.
Between 1920 and 1950, the practice of trick-or-treating was revived. Trick-or-treating was a inexpensive way for an entire community to share the Halloween celebration. Families could also prevent tricks on them by giving the neighbourhood children small treats.
From a religious point of view Halloween was originally a pagan holiday. This was celebrated on the 31st October to the end to the celtic calendar with respect and honour to the dead. It was also referred to 'All hallows eve' But as the debate goes on, not everyone views the holiday to be evil or filled with horror. Halloween is now celebrated with no reference to any rituals, "well, we think".
As Halloween has been celebrated for over 2000 years. It has become a time for fun, trick-or-treating, telling spooky stories, awesome costumes and having themed parties.
Many Halloween celebrations may be off the table this year, but we will still be marking this most spooky of days with appropriately chic and scary Piercing Jewelry. Add just the right amount of eerie to a socially distanced drink with Oufer Body Jewelry who are taking the skeletons out of your closet and hanging them all over your body.
From Halloween 2020, Oufer's Design team has been working extremely hard to bring to light the most beautiful and spooky Halloween body jewelry which will accompany you through the Halloween festive season down to Winter.
No.1 Magenta Glitter Bat Halloween Body Jewelry Design
If you're looking for the different accessories for a Traditional festive Halloween night or You're looking for Halloween body jewelry Gift Ideas! This set of piercing jewelry definitely meets your eager desire!! Compared with traditional Halloween black or orange colors. We're introducing a little touch of a romantic color "Magenta Glitter" to this year's Halloween body jewelry set, which is absolutely Beautiful !! This set Includes Nipple Ring, Belly Button Ring, and Cartilage Studs! 
No.2 Teal Witch and Bat Halloween Body jewelry Design
Did you know Teal is a popular Halloween color? Originated from a worldwide movement named "THE Teal Pumpkin Project". OUFER's Devoted and Talented Team designed a set of Halloween body piercing jewelry set with this color which has never been used or seen before on Halloween Body Jewelry. This Collection Includes the Halloween Nipple Rings, Halloween Belly Button Ring, and Halloween Cartilage Studs.  
No.3 Jack O'lantern and Bat Halloween Body Jewelry Design
Halloween is coming, are you ready? Jack O'lantern and Bat are two essential elements. OUFER's designer brings forth new ideas for them, compare with traditional orange and black, we decided to change the Game with this amazing Aurora Borealis. When the particles collide with oxygen, yellow and green are produced. Interactions with nitrogen produces red, violet, and occasionally blue colors. That's your new Halloween jewelry color! We designed the Halloween Nipple Rings, Halloween Belly Rings and Halloween Helix Stud.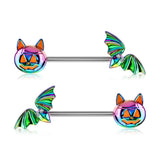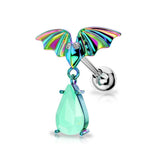 No.4 Pumpkin and Bat Black Halloween Industrial Barbell Design
For centuries of tradition, you must have a set of Halloween body jewelry with the colors orange and black! For 2021 OUFER's traditional Halloween Body Piercing Jewelry features a black spooky devil head, beastly ears, red eyes, and two sharp Open fangs! Every detail about these pieces are as frightful as hell! but at the same time, it does feature a Jack O's lantern for protection! and this collection includes an Industrial Barbell, Belly Ring, and Cartilage Studs.  
NO.5
There is nothing more spooky than a collection of cats and ghosts which is a lot of fun! Our designers never let go off such elements to express their love for Halloween, beyond that, we used black and white as the complementary color on the color wheel to give its features an extra visual impact! Definitely great as matching Halloween costumes and makeup, also for cat and ghost lovers!! This set includes Nipple Ring, Belly Ring, and Cartilage Stud! 
Apart from the above items, we also have lots of unique Halloween body jewelry designs on our official website. Each of which is inspired mainly by Contemporary Halloween Culture!! You can also find the most desired and well crafted pieces and collections on our website.
Text Reference:
http://www.halloween-website.com/history.htm