Customer Reviews
Write a Review
Ask a Question
03/25/2021
Anonymous

United States
I recommend this product
Great
Fit great. Great quality. Doesn't irritate my ears.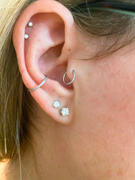 03/26/2021
Ouferbodyjewelry
It looks great on your ear, Angela! Thanks for coming back for us, would like to see you soon
12/28/2020
Ka Y.

United States
I recommend this product
8mm nose seamless nose ring
Over all I order wrong size 5mm of the 18G (it was way too small literally) I contacted customer service right away ask for exchange they reply back super fast and quick first 2 times (stating just give them 5 ⭐ and they will not hassle both ends to send back and for them to wait to get the merchandise also, yet they ask for me to give them a rating and they will send me a brand new one for free correct size, I was so nervous about the size so I ask 8mm at first but ask for 10mm of the 18G, they this one replied back so slow and too late so I got 8mm of 18G it worked perfectly well perfect size, I'll be honest even with the generous customer service I got and for the free item to replace the clicker snap part to shut the nose ring ****** part isn't tight sturdy it's pretty loose and clicker part can easily snapped too where the nose ring can pop out or off. Idk if it's just mine or all are like that with the clicker on this site, but over all I do love the nose ring and I honestly would give them 5 ⭐. I bought one from my shopping mall and the clicker part it clicks snaps tight you can hear the click tight sturdy not loose sadly it snapped away from my nose during my sleep.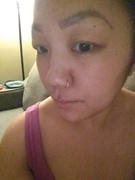 12/25/2020
Sara M.

United States
I recommend this product
Nose ring
Love!!!! I got my sister a nose ring and she adores it! Thank you so much for everything!
These are the standard sizes used for each piercing in body jewelry. Please note that we cannot guarantee that this is the size used for YOUR piercing. These are the standard gauges and lengths used by professional piercers. Everyone's body is different, and sometimes piercers will use different lengths and gauges depending on your body and the type of jewelry you want to wear.